Welcome to the...
Founded on October 21, 2021
436 articles • 884 files • 10,262 edits
ABOUT THE WIKI
This is the wiki about Vampire Survivors that anybody can edit. It plans to document all the gameplay details, numbers, and formulas behind the game.
WHAT IS VAMPIRE SURVIVORS?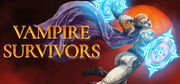 Vampire Survivors is an action roguelike game developed and published by indie developer poncle. The game was originally coded using HTML5 and was released on itch.io as a browser game for free on March 31, 2021. Several months later, the game was released on Steam for Microsoft Windows under early access for $2.99 on December 17, 2021.
READ MORE